Allergy & Asthma Network logs 100+ visits with legislators during 19th annual Allergy & Asthma Day Capitol Hill on May 12, 2016  
By Gary Fitzgerald
Allergy & Asthma Network members, advocates and healthcare professionals were out in force on Capitol Hill on May 12, walking the halls of Congress and urging legislators to continue to expand access to asthma and allergy care, as part of the 19th annual Allergy & Asthma Day Capitol Hill (AADCH).
In the morning, Stephanie Lowe and her son from Cleveland joined Sen. Sherrod Brown (D-OH) for a "Constituent Coffee" in the U.S. Capitol Building to advocate for asthma and allergy patients. They stood alongside NFL great Ickey Woods, the former Cincinnati Bengals standout who pushes for increased asthma research following the death of his son Jovante in 2010 due to asthma.
Mid-day, Jeff and Cristin Buckley of Southington, Connecticut met with Rep. Joseph Courtney (D-CT) to continue their efforts to raise awareness of asthma after their son Benjamin died due to asthma in 2014.
Later in the afternoon, Medford, New York school nurse Rita Molloy, RN, met with Rep. Lee Zeldin (R-NY) to advocate for stock albuterol asthma medications in schools. A few blocks away, Network president and CEO Tonya Winders joined Gospel singer-songwriter Natalie Grant and her daughter Gracie – who has asthma – in a meeting with Sen. Orrin Hatch (R-UT).
All together, Allergy & Asthma Network advocates visited with more than 100 members of Congress or their legislative staff, from both sides of the political aisle, to raise awareness of asthma and allergies.
"We're in this to make people's lives better, and there are things we can do to improve health," said Rep. Gregg Harper (R-MS), co-chair of the Congressional Allergy & Asthma Caucus, during a mid-day Congressional Briefing on Capitol Hill. "The policies we talk about here are going to have a profound impact, particularly in terms of research."
Allergy & Asthma Network's advocacy efforts focused on two key legislative initiatives:
The School-Based Asthma Management Program Act (HR 4662) would give federal funding preference to states that encourage schools to stock emergency supplies of quick-relief albuterol inhalers, the medication used to treat asthma flares. The bill would allow trained school personnel to administer the inhaler if necessary and implement a school-based asthma management program to ensure a safe and healthy learning environment.
The Medicare Telehealth Parity Act (HR 2948) would expand coverage of telehealth – real-time, face-to-face video visits between patients and healthcare professionals located at different sites. A key component of the bill would increase the list of telehealth providers to include respiratory therapists, among others.
Another issue the Network addressed with legislators involved US Pharmacopeia (USP) proposed changes to sterile compounding that would remove special rules allowing for the preparation of allergen immunotherapy extracts in allergists' offices.
"These new regulations would make it just about impossible for allergists to provide this therapy in their offices," said James Sublett, MD, allergist with Family Allergy & Asthma in Louisville, Kentucky and past president of the American College of Allergy, Asthma & Immunology (ACAAI), during the Congressional Briefing.
The special exception rules for allergen immunotherapy extracts for patients have been in place for decades and are consistent with prior Congressional Action supporting the allergen extract special rules. Read more about US Pharmacopeia's changes in this PDF.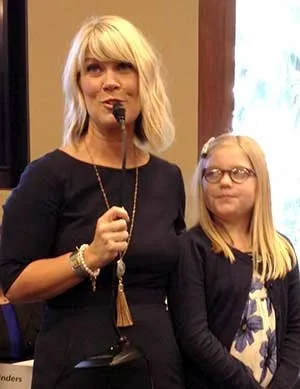 Natalie Grant's Story – The Importance of Asthma Education
During the Congressional Briefing, Natalie Grant, a singer-songwriter with more than $3 million in career sales, four Grammy nominations and five Gospel Music Association's Female Artist of the Year awards to her credit, shared how her daughter Gracie's hospitalization last December due to complications from pneumonia, respiratory syncytial virus (RSV) and asthma impacted their family. Their story highlights the need for patients, families, healthcare providers and government leaders to understand the importance of asthma education.
Before Gracie was hospitalized, she had been feeling better with her asthma. "I hate to admit that we stopped giving her medicine," Natalie said. "It's hard to admit that when you want to do the best you can for your child – but I just didn't know. I wasn't educated and I had no idea how serious asthma was."
After Gracie's condition improved, the Grants sat down with hospital staff and developed an Asthma Action Plan. Four months later, they came to AADCH to advocate for asthma education.
"If your child tells you they are not breathing very well, you should always take it seriously or else it can get out of hand," Gracie said.
Ickey Woods' Story – From Tragedy to Hope
Ickey Woods, an All-Pro running back for the Cincinnati Bengals from 1988-91 best known for his "Ickey Shuffle" touchdown dance, shared the story of his 16-year-old son Jovante, who passed away due to an asthma flare on Aug. 14, 2010.
"It was heart-wrenching, and it's still heart-wrenching to this day, to lose Jovante – I grew up with asthma myself and I never knew asthma could kill until it took my baby from me," Ickey said. "I started doing some research and came to find out asthma is one of the fastest-growing diseases in America."
He turned the tragedy into a story of hope by starting the Jovante Woods Foundation to further asthma research. This year, he donated $100,000 to the Cincinnati Children's Hospital Asthma Center – the gift was delivered on Jan. 11, 2016, the day Jovante would have turned 22.
The foundation has also awarded more than $30,000 in scholarships to student-athletes in the Cincinnati area.
Updating New Asthma Guidelines, And More
Representatives from federal agencies addressed the Congressional Briefing, with Michelle Freemer, MD, Asthma Program Director with the National Heart, Lung, and Blood Institute (NHLBI), discussing the ongoing update to the Guidelines for Diagnosis and Management of Asthma.
The guidelines help "create the recommendations for how to care for asthma patients," Dr. Freemer said.
Last updated in 2007, the revised guidelines are expected to be released next year.
The update is expected to include new guidelines for allergy immunotherapy, the role of long-acting anti-muscarinic medications in asthma management and Bronchial Thermoplasty (a surgical procedure for severe asthma).
Paul Garbe, Director of the U.S. Centers for Disease Control and Prevention's National Asthma Control Program discussed how CDC is collecting data and interacting with agencies and organizations to combat asthma.
"Nobody should die from asthma," Garbe said. "People should be able to control their asthma with proper medication and proper education."
Alisa Smith, PhD, Deputy Director of the U.S. Environmental Protection Agency's Indoor Environments Division, discussed the positive impact home interventions and assessments are having on improving indoor air, especially for people in urban areas.
---
AADCH Sponsors
American College of Allergy, Asthma & Immunology
AstraZeneca
Boehringer Ingelheim
Boston Scientific
Genentech
GlaxoSmithKline
Lupin Pharmaceuticals, Inc.
MEDA U.S.
Mylan Specialty L.P.
Novartis
TEVA Respiratory